Charts
Charts Are Provided Form The Israeli AIP and are mandatory for flight in anytime.
Please let us know if there are new charts or if there is any problem with the charts shown here.
IVAO Israel - Flight Ops
Some Enroute Charts so you will be able to Plan your flight, CVFR or IFR.
CVFR Routes

IFR Routes
Ben Gurion Airport (ICAO:LLBG IATA:TLV) is the main airport in Israel, and servers as the country's gate for international visitors.
Ben Gurion is located 19KM South-West from Tel - Aviv, 135ft above sea level.
Ben Gurion airport has three runways which currently to date only one is active due to renovations. the active Runway is 08/26 which is the longest runway available in Ben Gurion (13,326ft or 4,062m long).
Charts Can be found here.
Eilat Airpot, also known as J. Hozman Airport (ICAO:LLET IATA:ETH) located in the city of Eilat which is the most southern city in Israel. Eilat airport mostly handles domestic flight, but few international flight operating form this airport as well.
Eilat airport has one runway available which is 03/21 (6,234ft or 1,900m long) and its elevation is 42ft above sea level.
Charts Can be found here.
Ovda airport (ICAO:LLOV IATA:VDA) is a combined military and civilian airport.
Ovda airport serves as Israel's second international airport and is mainly used for alternate aerodrome for Ben Gurion airport. Ovda Airport located 60KM north of the city of Eilat.
from Ovda airport the 115 squadron is operating both F-16's and AH-1 "Cobra" military airplanes which simulates "Red Forces" on Israeli Air Force trainings. Ovda Airport Has two runways located 1,492ft above sea level. those runways are: 03L/21R (9,843ft or 3,000m) and 03C/21C (8,530ft or 2,600m) and as for today Runway 03R/21L is using as a taxi way.
Charts Can be found here.
Sde Dov Ariport, also known as Dov Hoz Airport (ICAO:LLSD IATA:SDV) located in Tel - Aviv and mainly handles domestic flights. Dov Hoz Ariport named afted one of the pioneers of Jewish aviation. Most of the international flight are to nearby Cyprus. as of Ovda Airport. Sde Dov also has some military activity within its aerodrome and its hosting the Israeli Air Force light Transportation Squadron. (Takes up about 40% of overall movements)
Sde Dov airport has one runway 03/21 (5,712ft or 1,741m) and its elevation is 43ft above sea level.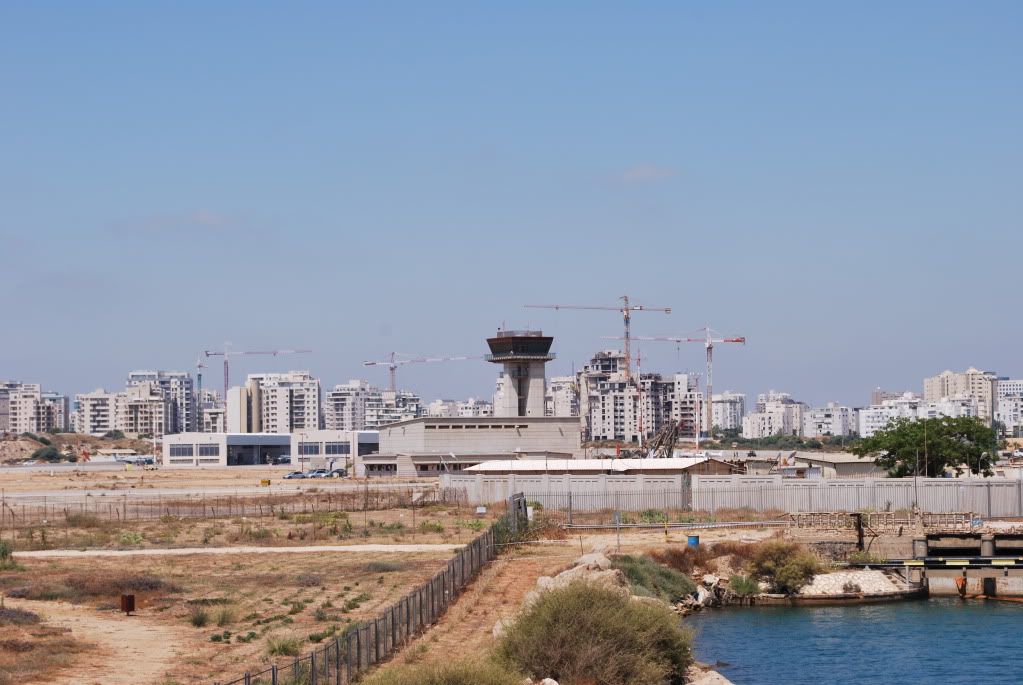 Charts Can be found here.
Jerusalem Airport, also known as Atrot Airport (ICAO:LLJR IATA:JRS) is a small airport located between Jerusalem and Ramallah.
Although in real life this airport is closed since the Second Intifada, because of safty reasons this airport is active on IVAO network and is controlled by Ben Gurion Approach or TMA.
Atarot Airport has one runway 12/30 (6,447ft or 1,965m) and its elevation is 2,485ft above sea level.
Charts Can be found here.
Haifa Airport (ICAO:LLHA IATA:HFA), is named after Uri Michaeli, one of the pioneers of jewish aviation and one of the founders of aviation in Israel.
the airport is located east to the city of haifa, close to the kishon port and Shipyards and serves mostly domestic flights and some military flights.
Haifa Airport has one runway 16/34 (4,324ft or 1,318m) and its elevation is 28ft above sea level.
Charts Can be found here.
Rosh Pina Airport, also known as Ben Ya'akov Airport or Mahanayim Airport (ICAO:LLIB IATA:RPN), is a small airport located in Rosh Pina and Mahanayim.
Rosh Pina Airport handles domestic flights and is used by the Israeli Air Force as a helicopters base while training in its area.
The airport has two runways 15/33 (3,655ft or 1,114m) and 05/23 (3,190ft or 972m), currently runway 05/23 is closed and used as parking spot for Israeli Air Force helicopters.
Herzlia Airport (ICAO:LLHZ) is located in the city of Herzlia.
The airport is used by flight schools for training and for general aviation and it has no terminal.
Herzlia airport has one runway, 11/29 (2,962ft or 903m) and its elevation 121ft above sea level.
Some charts for most of the non-controlled airstrips in Israel which officially released by the Israeli Aviation Authority.
Charts are in Hebrew only because of the inherent limitations, If really necessary, charts can be understood.